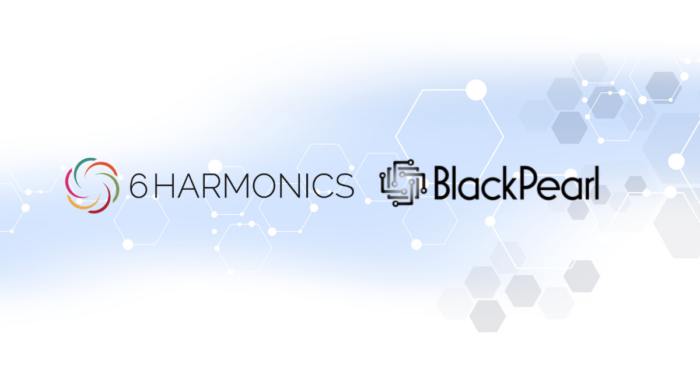 6Harmonics and BlackPearl Technology Announce Strategic Partnership to Drive Rugged Edge Compute and Communications Solutions
THE WOODLANDS, TEXAS and OTTAWA, CANADA | APRIL 28, 2023. 6Harmonics, a leading provider of broadband UHF radio network solutions, and BlackPearl Technology, Inc., a full-cycle engineering and technology product development company, have announced a new strategic partnership. The collaboration aims to deliver a pivotal computing platform, serving as the foundation for a new 6Harmonics product family due in 2023 and 2024. These products will provide Rugged Edge Compute and Communications (RECC) solutions for industrial digital transformation and remote digital inclusion.
It was recently announced that BlackPearl inked a deal with C2MI (MiQro Innovation Collaborative Centre) based in Bromont, Québec, Canada. C2MI's Founding Partners IBM Canada Ltd, Teledyne MEMS along with Université de Sherbrooke welcomed BlackPearl as a new Main Partner to complete the center's technology offering. BlackPearl's role is to assist the hundreds of companies within the C2MI ecosystem with the development and commercialization of their products, as well as oversight and management of the SMT line in this unique state-of-the-art facility.
Located in Bromont, Québec, C2MI is the largest electronic systems research and development center in Canada. Supported by a world-class infrastructure in the fields of microelectromechanical systems (MEMS) manufacturing, advanced semiconductor assembly, compound semiconductors and electronic systems, and printable electronics, C2MI is at the heart of all industrial sectors integrating components essential to the use and deployment of digital technologies.
The announcement between 6Harmonics and BlackPearl Technology comes on the heels of U.S. President Joe Biden meeting with Canadian Prime Minister Justin Trudeau in March, aiming to work together to build a reliable and secure supply chain in an effort to reduce technology dependence on China. Both countries have committed to creating a strong, resilient, and environmentally responsible plan to support various sectors, including clean energy, electric vehicles, semiconductors, aerospace, and defense.
"We are excited to partner with BlackPearl and C2MI to develop our new pivotal products to be introduced in late 2023, enabling us to go after exciting new additive markets," said Rob Barlow, CEO of 6Harmonics.
With BlackPearl designing new products and technologies in the U.S., and having the capability to carry them through to full-scale manufacturing in Bromont through their Canadian subsidiaries, Recherches Perle Noire, Inc. and Innovation Perle Noire, Inc., the partnership with 6Harmonics exemplifies the collaborative objectives that the two governments aim to achieve together.
"We are thrilled to collaborate with 6Harmonics and leverage our combined expertise in technology and engineering to create groundbreaking RECC solutions. This strategic alliance not only embodies the cooperative vision set forth by the U.S. and Canadian governments, but also showcases our shared dedication to innovation and a sustainable future," stated Misti Jeter, President of BlackPearl Technology.
"It is essential to fit strategically into major North American supply chains. We are preparing to put Bromont, Québec, and Canada at the heart of the semiconductor chain in North America. It is very strategic for research and manufacturing in this sector," said a government source familiar with the matter.
The collaboration between 6Harmonics and BlackPearl Technology marks a significant step in this new relationship, demonstrating the United States' commitment to supporting Canadian companies in the technology economy.
ABOUT THE BLACKPEARL GROUP OF COMPANIES
Headquartered in The Woodlands, Texas, the BlackPearl group of companies is an exciting assortment of engineering brilliance coupled with manufacturing and client services. They are a state-of-the-art product development company handling product design and development lifecycles from conception to manufacturing. Fully staffed with electrical, mechanical, software and firmware engineers, their team is ready to bring ideas to life. They use the latest technology and innovations to develop reliable solutions that solve problems and improve processes. All design and manufacturing is done in North America. As their fourth major partner of C2MI, alongside IBM, Teledyne Dalsa, and University of Sherbrooke, BlackPearl manages and operates the SMT line in Bromont, Québec and works with C2MI industrial members to commercialize and bring their products to market. For more information, visit the BlackPearl website at www.blackpearltechnology.com.
ABOUT 6HARMONICS
6harmonics is the leader in rural and remote UHF broadband wireless connectivity. 6Harmonics enables new levels of service delivery at the edge of the networks with secure, powerful, robust, and versatile communication products that are transformational in the quest for connecting people and things globally. Visit www.6harmonics.ca for more information.