TV White Space is Bringing Broadband Connectivity to New Areas – Discover this Breakthrough Technology
TV white space is enabling more people & things, in remote areas, to have broadband connectivity.
6Harmonics is harnessing the combination of long-range spectrum and its fit-for-purpose technology to connect and empower more people and things, further and better than ever before.
What is TV White Space?
Areas of unused spectrum space between UHF TV channels. The TVWS spectrum is reclaimed, unused spectrum that was reserved for UHF TV channels when UHF was. This unused area's has been name is TV White Space, or "buffer channels."
Researchers, regulators and innovators such as 6Harmonics created the spectrum availability and technology innovations needed to re-purpose and utilize this vacant spectrum for broadband connectivity. Using it in this way has no effect on surrounding TV channels, and empowers rural development and on-grid reach with reliable wireless broadband.
About a decade ago the USA, Canadian, UK and other regulators released this unused spectrum for unlicensed public use. To make it easy to access, and in a controlled fashion, the spectrum is generally accessible and granted though spectrum database management firm approved by the regulators. Today, the spectrum is accessible, the databases managers have proven their technologies and the governments are funding digital divide projects using TVWS Radio technology.

More Reliable at distance, than Wi-Fi
TV white space operates in UHF band, with lower frequency than a traditional Wi-Fi router and outdoor Wi-Fi. The router's range is only approximately 100m, the outdoor Wi-Fi spectrum products can get greater ranges up to 2-7 km, but they only operate in very clear Line-of-sight. TVWS comes to the rescue with its UHF spectrum that offers up to 10x and 15x the range of outdoor wi-fi and does not need the same RF line-of-sight as Wi-Fi spectrum equipment do. TVWS solutions commonly can reach 20 KM, 40KM and some event reached 100KM.
Environmental obstacles such as walls, buildings, rough terrain, and others, are very clallenging for outdoor Wireless systems in the 2.4Ghz and 5.8Ghz Wi-Fi bands. However, TVWS and its UHF band does not suffer from these environmental obstacles. TVWS's ability to overcome such barriers has led it to acquire the nickname of "Super Wi-Fi."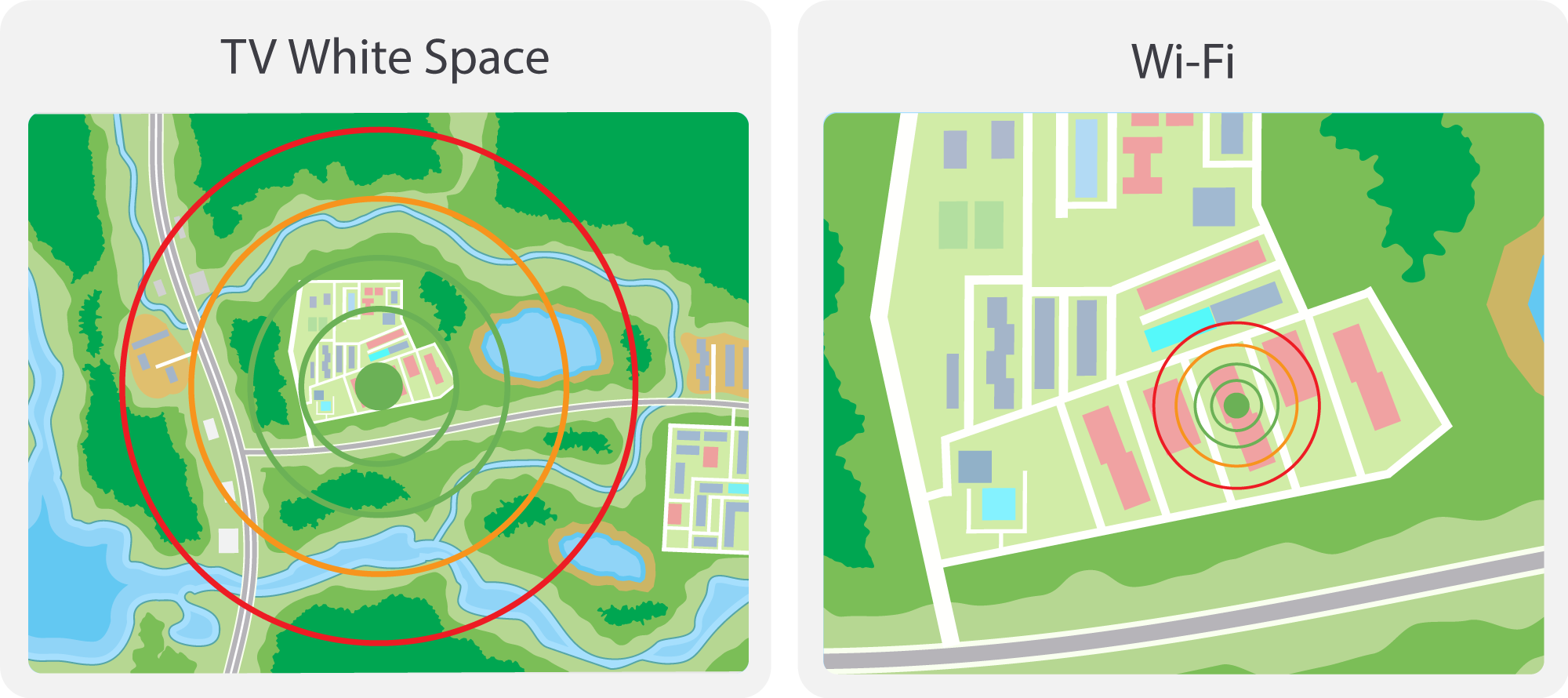 Traditional Wireless Connectivity vs TVWS
Traditional wireless broadband connectivity in sub-urban environment Operated using Wi-FI spectrum and microwave links. These Wi-Fi spectrum and microwave links used higher frequencies in and even the super high frequency (SHF) band that require a line of sight connection. Providing line of sight connectivity is expensive, as it requires a network of tall towers and high points.
TV white space operates on ultra-high frequency UHF signals, just like the old TV channels you could pick-up even far way in the woods or at the cottage with the old "rabbit-ears" antennas. Therefore, TVWS can overcome obstacles and distance that are out-of-reach for Wi-Fi spectrum wireless broadband.
TVWS broadband is less expensive to deploy and more reliable at distance then Wi-Fi spectrum based solutions, it is physic, and one cannot cheat physics.

An Opportunity to Connect More People & Things at distance
As almost every aspect of our lives becomes more dependent on the Internet, connectivity is becoming a basic human right. However, it is not always feasible to connect everyone. Geographical location, environmental obstacles, and low population density makes it financially unfeasible to provide connectivity in some areas. The result is many remote communities losing out on the ability to connect, benefit, contribute and compete with the rest of the world.
Our mission is to connect the unconnected, by addressing the rural connectivity challenges with our TV White Space radio solution. The technology is deployed quickly, regardless of terrain, and requires little infrastructure to deliver connectivity at distances, to remote communities.
TV white space is not only to deliver wireless broadband for remote or rural areas. It is also an excellent option for sub- urban environments covered with tree canopy, preventing good connectivity with Wi-Fi spectrum based technologies. TVWS spectrum combined with our innovative, fit-for-purpose technology enables us to connect more people and things than ever before.
Rural IoT (Internet of Things)
People do need always on, reliable connectivity, but so as things. We live in a word of increase dependance on IoT for comfort, convenience, performance, safety, and security. TVWS is the best way to deliver connectivity to IOT systems making our life better and safer.
The TVWS technology we developed is capable of handling multiple devices with high data requirements, in real time and with very low latency. Already, TV whitespace is connecting homes, schools, community hubs, health-care center, recreational facilities, kiosks, security cameras, and sensors of all kinds. TVWS is used today to connect Industrial IoT and remote and rural operations for Manufacturing, O&G, Mining, Forestry, and other industrial verticals.
What is the Availability in Your Region?
To discover the availability of TVWS in your region, contact us and we will help you, with our step-by-step approach.
Discover more of how you can benefit from TV white space by contacting 6Harmonics today.
Frequently Asked Questions
Canada, USA, and the UK are the leading countries in the developments for broadband connectivity, on TVWS. Other countries such as Korea, Singapore, Thailand, Malesia as an example are well advanced. Colombia already has deployments and a number of other LATAM countries are following suits. South African countries are also following suit.
Globally, as TV broadcasting are migrating from UHF to other means, the regulators are repurposing these freed-up UHF TV channels to Broadband TVWS for digital divide initiatives.
Depending on the country you are, you can either contact the local regulatory authority or the spectrum Database, but you can just contact us and we will help you.
Once you've established what channels are available in your area 6Harmonics can conduct a propagation study. The results give you approximate coverage, signal strength, range, and other functionality of TV White Space in your location.
Effective ranges depend on geographical terrain, and environmental obstacles. Typically, you can expect an operating range to extend between 3 to 40 KM from the base station. We have seen up to 70KM and even 100KM.
Similarly, this depends on terrain, obstacles, and the number of clients using the facility. Therefore, you can expect speeds up 90 Mbps of payload traffic.
Government approved TV White Space technology is the only solution that can legally be purchased. If you want further information about your best options,
contact 6Harmonics today.
Of course, this number depends on the individual users' requirements, and the over-subscription used by the service provider For instance, taking an average of 4Mbps/1.5Mbps down/upload speeds, a base station supports approx. 10 to 12 clients. However, for more passive users, such as data applications, it could support between 30 to 40 clients.
TV White Space Radio operates on UHF frequencies from 470 to 698 Mhz within the U.S. In some other countries this frequency band is from 470 to 786 Mhz.
Different manufacturers use different standards, 6Harmonics developed a fit-for-purpose implementation that enables higher capacity and transmit power the all other TVWS equipment suppliers, hence the superior performances at greater distances.
The technology includes a web-based management system, including a wide range of network management and diagnostic features. The MIB's are also available for integration to your preferred NMS, if this is better for you.