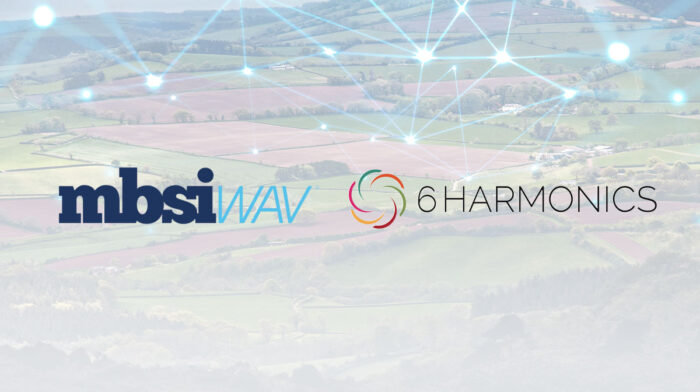 MBSI WAV partners with 6Harmonics to Expand its Product Portfolio with UHF Broadband Wireless solutions in the TV White Space (TVWS) spectrum
Medicine Hat, AB 
MBSI WAV, a leading wireless and networking solutions distributor, is proud to announce its strategic partnership with 6Harmonics, a global innovator and leader in UHF Broadband Wireless Leveraging the full TV White Space (TVWS) Spectrum from 470MHz to 698Mhz. This partnership aims to revolutionize connectivity by offering the 6Harmonics TVWS solutions to MBSI WAV's diverse customer base, allowing for unparalleled network performance and connectivity in challenging terrains and remote areas.
About The Partnership
This collaboration is designed to empower Industry, companies, and communities that have struggled with limited connectivity options. 6Harmonics utilizes unused TV broadcast channels to deliver high-speed Internet connectivity, offering an innovative solution for connecting remote and rural people and things. By adding 6Harmonics' proven TVWS solutions to its product portfolio, MBSI WAV enhances its commitment to bridging the digital divide and enabling connectivity.
"Our partnership with 6Harmonics aligns perfectly with our mission to provide robust, innovative, and comprehensive networking solutions," said Ryan Tabor, Systems Engineer MBSI WAV. "This addition to our product line not only diversifies our offerings but also allows us to tackle the challenges of last-mile connectivity with proven technology."
Revolutionary Technology for Connectivity
6Harmonics is a pioneer in TV White Space and continues to bring forward new improvements, innovation, and cost-effective solutions. The products are designed to provide high-speed connectivity in places where traditional broadband or mobile services are inadequate or unavailable.
"We are delighted to partner with MBSI WAV, a company with a strong reputation for distributing state-of-the-art wireless solutions," said Rob Barlow, CEO of 6Harmonics. "Together, we can connect more rural and remote people and things and make high-speed internet connectivity accessible everywhere."
Availability
The 6Harmonics TVWS product range is available in North America for order through MBSI WAV. MBSI WAV's dedicated team of experts, with the involvement of 6H factory representatives, are available for consultation and support, ensuring seamless integration and deployment of comprehensive solutions.
About MBSI WAV
MBSI WAV is the industry's premier distributor serving the Canadian wireless market with strong stocking positions both in Alberta and Ontario. MBSI WAV provides the depth of knowledge and expert services required to fully address the specific technology and value-add needs of the WISP, VAR, and Solution Provider community. Along with providing professional value-added services, MBSI WAV offers up-to-date product knowledge with support for multi-vendor solutions. For more information, call (866) 597-6274 or visit our website at: www.mbsiwav.com
About 6Harmonics
6Harmonics is the leader in rural and remote UHF broadband wireless connectivity. 6Harmonics enables new levels of service delivery at the edge of the networks with secure, powerful, robust, and versatile communication products that are transformational in the quest for connecting people and things globally.
For Media Inquiries:
MBSI WAV
Nicole Devereaux
866-597-6274
ndevereaux@mbsiwav.com
6Harmonics
Louis lambert
+1 416 219 7476
Louis.lambert@6harmonics.ca