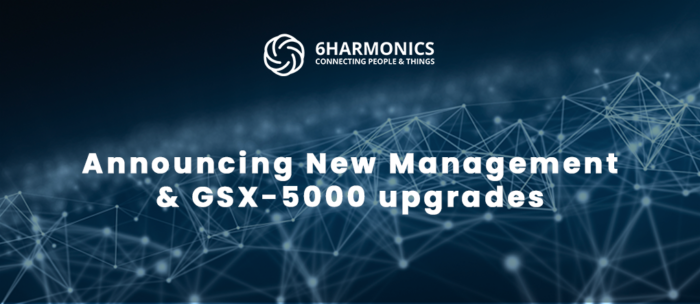 6Harmonics Announces New Management and Feature Enhancement to Its GSX-5000
6Harmonics develops and manufactures specialized TVWS wide-area wireless technology to connect people and things.
OTTAWA, March 22, 2022 / 6Harmonics, a leading provider of TVWS Wireless Equipment enabling robust wireless communications in the most challenging locations, announced today some management changes and enhancements to its GSX-5000.
6Harmonics connects the unconnected, where distance and environmental barriers exist, with reliable and cost-effective solutions. 6Harmonics's GSX-5000 provides the most capacity at the greatest distance with low latency wireless infrastructure solutions for service providers, enterprise, government, and industry.
We are pleased to announce that in late 2021 Rob Barlow, a leading telecom exec and passionate thought leader on the digital divide, has joined us as our new CEO to position the company for growth and continuous value.
Also joining the management team is Mr. Leslie Gower, a leading finance executive who joins as our CFO. These changes are led by our current industry-leading board and the founders, Robert Wu and Peter Sun.
Effective immediately, Mr. Robert Wu will focus on the CTO role, Mr. Peter Sun will focus on developing the 5000 and the new Next Generation product we will announce soon.
New domain name
6Harmonics is a proudly Canadian company. As part of the process, we have started an annual client advisory board and acquired a new domain name, www.6harmonics.ca. Our objective is to create value in the global marketplace and to leverage the benefits of Canada's economic strength.
Stay tuned for:
New features for the 5000
In the week and months to come, we will release new client-driven features and enhancements to the 5000 series to further improve usability, manageability, and reduce overall deployment and operational cost.
New Next Generation Product
We are working on a next-generation TVWS product. The new product will help our clients, partners, and the entire ecosystem to tackle the growing need for bandwidth and connectivity in a multi-technology environment.
We look forward to meeting you face-to-face at the CanWISP event on March 28-29-30, at the Hilton Lac Leamy, Gatineau, Quebec