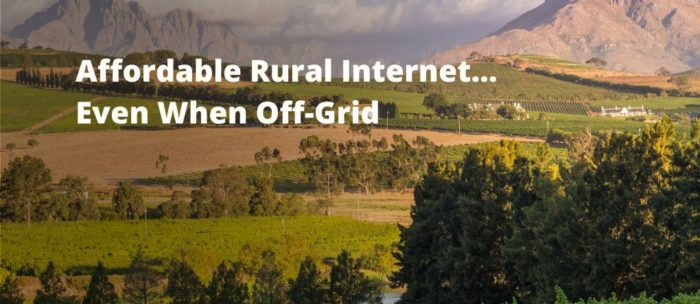 Affordable Rural Internet Delivered for a Fraction of the Cost – Even When Off-Grid!
When there is a will, there is a way!
All of us depend on our smartphones in our daily life. They are not just phones anymore, but cameras, portable computing and communication devices, health monitors, calendars, notepads, step counters, etc. We also all love our LTE, 4G, and 5G whenever they are available and affordable, but what happens when there is no 3G, 4G, 5G or they are not affordable?
Although we continue to rely on the 3GPP, 4G and 5G mobile networks; if they are either failing, we're outside the coverage area, or they are too expensive while roaming, then we switch to Wi-Fi connectivity to use VoIP applications such as ZOOM, TEAMS, SKYPE, WhatsApp, and many more. Many college students for example, have high-end mobile phones, PCs, and tablets but only subscribe to the most basic mobility plan, because they can move from one free Wi-Fi to another. This summer, I was visiting my father in the small town of La Riviere Rouge, Quebec, and the 4G coverage was spotty at best. So, I was looking for Wi-Fi but the hospital where he was, doesn't have Wi-Fi, not even for staff! Hard to believe, but that's the case, so I asked around to see where I could connect to Wi-Fi, and there is only one hotspot in that town, and it's at the Tim Horton's coffee shop. Without hesitation, I got in my car and drove to Tim's to find out that there were a bunch of people in, and outside the coffee shop sipping on coffee and connecting to the world through free Wi-Fi. I purchased a coffee, walked back to my car, popped up my laptop, and was able to do my Zoom and TEAMS video calls. When I needed to connect to the web; a Wi-Fi connection to my device was there to save the day.
The "Wi-Fi first" connectivity reality is at the epicenter of the solution put together by a WISP in Africa.
Connecting people with Wi-Fi, leveraging smartphones, tablets, Smart TVs, and other machines even when there's no mobile 4G or 5G network, or it is prohibitively expensive, is feasible. This is what Keith Pitout, an African WISP, did for about 30 cents per gigabyte, using 6Harmonics TVWS and Wi-Fi. Not your average downtown New York City Starbucks, but the same approach.
Innovation is usually forced by a challenge and driven by the desire for a solution. The challenge was that there was not enough ARPU (Average Revenue Per Unit) for the classic Mobile network operator to invest in deploying service to these communities. Today, people are far more interested in broadband data connectivity versus a traditional voice connection; after all, classic voice is rapidly being replaced with VoIP globally, even in downtown Manhattan. Mr Pitout's solution was to forget about the classic Mobility model and deploy Wi-Fi hotspots where people can congregate to connect with their chosen device, if the device has Wi-Fi capability. The people in these communities, like when I visited my father, need to connect. They are mobile, so they would rather walk to a free or affordable hotspot versus no connection. Take 2 min and read how Keith Pitout's creativity solved the problem and connected the unconnected, using 6Harmonics TVWS and Wi-Fi.
Article link:
Indio Networks & Indigo Broadband team up for affordable Internet in rural South Africa – Wi-Fi NOW Global (wifinowglobal.com)